Recently I have shared many tutorial about drawing of an eagle. You must have a glance at those tutorial here
step wise drawing eagle's head and another tutorial on drawing of BALD eagle.
In today's video you will learn in detail about how you can easily draw an eagle that fly in air as it spreads its wings. This is a step by step guide that can easy be sketched by beginners and kids.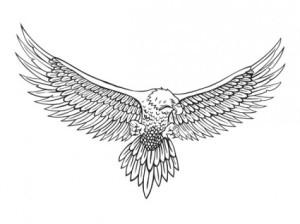 How To draw eagle with spreaded wings:
This video tutorial will help you alot in drawing an easy wings of flying bird that are spreaded. All you have to do is to pick a pencil and clip board and start drawing with above explained easy steps.
Drawing is not hard skill, this is just a game of practice. You will be successful in drawing any thing out of your imagination when you have patience and practice. Patience is needed because it is not an art that can be learned over night. Practice is for, it demands burning mid night oil. Just go ahead and have firm determination of doing some thing distinct. Have believe in your self and you will be done.
This video tutorial can be followed by beginners and those students who are kids. Just watch the video and then have an idea in your mind about that.
First draw outlines of amazing looking eagles wings, then move your pencil inward and sketch all other remaining things in it.
It is very easy to portray an eagle and its wings, as described in video tutorial.
Watch these video with full concentration and then comment here down about our tutorials. We will appreciate your opinion and love to improve our blog.
You can also share us your piece of drawings, we will love to publish that our blog.removed 1