Here, today you will learn in detail about complete drawing method of an eagle's head. This is a step by step video tutorial. After watching this, it will become easy for beginner to sketch a eagle.
Eagle is a bird loved by many people. The bird is wonderful and gorgeous pets. Eagles have  a lot of features, most of them that must be counted are their fearlessness, high flying, tenacious, and never ever eat dead meat.
Here is previous video : On drawing a bald eagle step by step
These above listed characters are very hard to find in any other bird, or I will say it is impossible.
You can sketch eagle in very easy and step wise manner, just watch the video tutorial and follow it even if you are beginner or even a learning kid.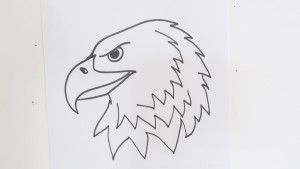 Here is easy video for drawing in step wise manner.
How to draw an eagle:
After watching this helpful video, you will come to know how easy it is to draw a simple head of an eagle bird.
If you are keen to know more about drawing then here is another video of drawing an eye of bird eagle.
Drawing of eagle Eye step wise:
Now have a copy pencil and start sketching a beautiful looking amazing eagle. First draw simply an head and then go for another page to sketch an eye of eagle on that. I hope these video tutorials were very helpful for you, if you are a beginner. Other wise when you learned this skill and art then it will be very easy for you to draw any thing. Just imagine in mind and start drawing its outlines and then see how it is easy to understand the skill of sketching and portraying.removed 1