This video tutorial of drawing on paper will teach you about how you can draw an awesome looking dragon in step by step manner. This beginner level guide can easily be followed by any one. Just Pick a pencil and lets start.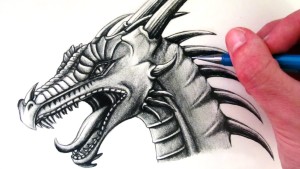 Dragons are the amazing and legendary fictional and mythical creatures keeping certain mythologies in many parts of the world. The word 'dragon' comes from a Greek work drakon which means 'a serpent'. They were believed to be a part of serpentine or reptilian families long ago. There are two types of mythologies about the dragon, one in European literature and other in Chinese traditions and culture. Both are seemed to have been crossed by travellers carrying expeditions along the continents. These myths are spread throughout the Middle East, Europe and some portions of south Asia. We will discuss on how to draw a dragon in step by step method for beginners and kids on a paper with pencil. This video tutorial will give you basic ideas about drawing with a pencil.
Also Learn :
How to draw a dragon steps:

A dragon is a mythological representing of a reptile, but with the passage of time, it evolved having legs resembling a lizard. Nowadays, dragons are thought to be supernatural animals having legs and emit fires from their mouth with a scaly lizard type body, but in many European countries, they are depicted as a winged creatures having bat like feathers.
How to draw daisy flower in easy steps 
This monster was always plotted in fantasy movies and our most favorite TV shows. Recently, their appearance in GAME OF THRONES was absolutely a great piece of art for art lover. We too, as art lovers must fall in love with this monster and show our love by drawing a beautiful sketch for it.
If you liked the video, share it on any social site of your choice by clicking the social media buttons below. If you want more fun, go to our homepage and explore all kind of drawings from cartoon characters to epic scenes.removed 1