If you have taken the previous tutorials and you are ready for some difficult tasks to do, you should try to draw a boeing b17 bomber. In this video tutorial, we will show you how to draw a boeing b17 bomber in a step by step manner.
This video is made for beginners and kids, so it's not very much kind of difficult but this informative is somewhat above than others. I am not meant to scare you from its difficulty, so fasten your seat belts to make jealous your school friends. Even if you are an adult, these tutorials will make you far above from those 99 percent workaholic dudes out there in your workplace.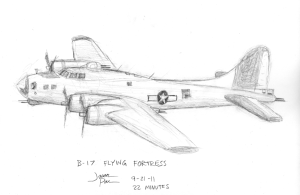 On your mark,get set, go. if you are ready, willing and able to take this tutorial, this video can be a beginner to your drawing tutorial's normal level beginning and you can jump from beginner to amateur level. If you have no difficulty in drawing this after your practise, congratulations then, you are on your way to become a drawing artist, i assure you.
Let me tell you about boeing b17 bomber. This fighter jet was manufactured by USAAF in 1930s with a four engine bomber initially. It evolved through different periods of time and now it's in a fantastic shape for you to draw on your papers. We will be drawing an updated version of this bomber plane so get ready for it.
How to draw a Boeing b 17 bomber :

We hope that you learned and mastered a lot of things in this video tutorial and if not, well we have made a perfect video and illustrations, you may have missed something of it, so watch it again if you have not understood it properly. Do watch these videos at least two times for better understanding and share this art with your friends too.removed 1